Meet The Band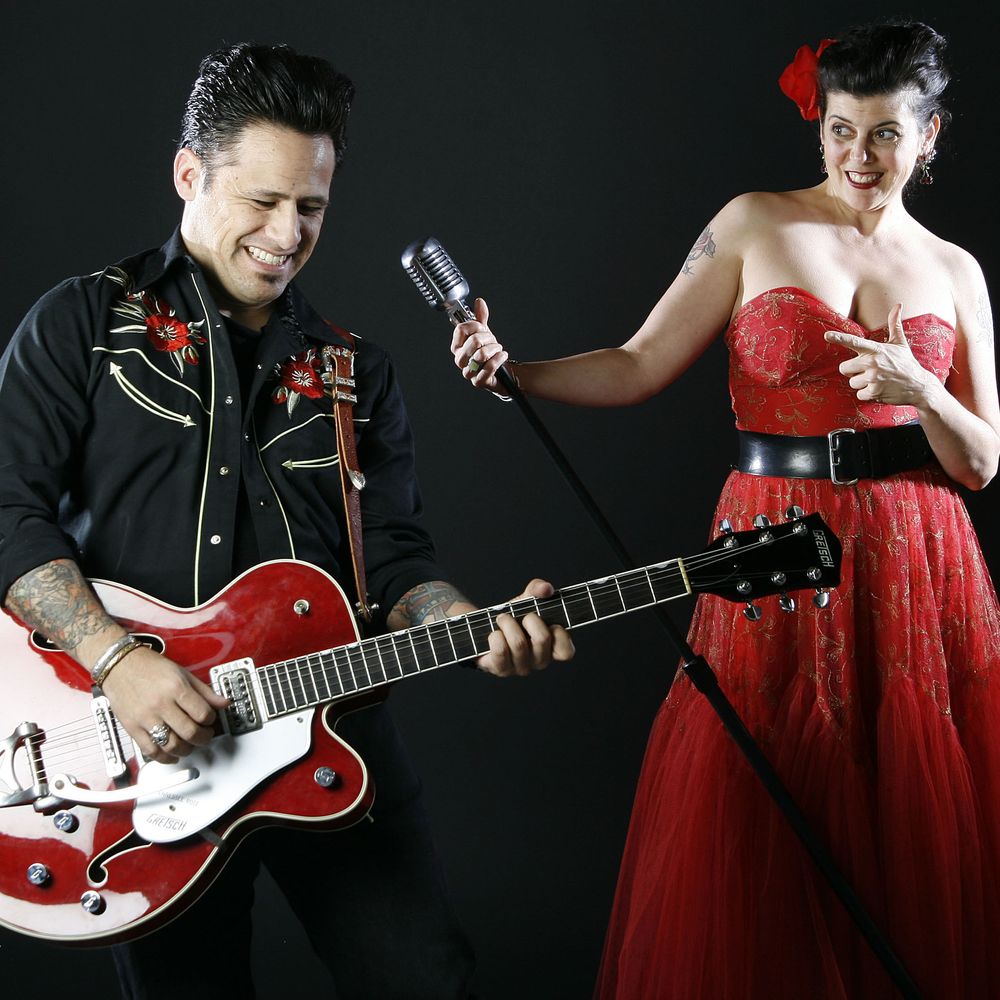 RUBY DEE AND THE SNAKEHANDLERS
ROOTS, COUNTRY, ROCKABILLY
Music lovers the world over continue to learn about this band that's earned a nationwide following and international fans with its honest, original music fused with synergy, sugar, sweat and soul. The 20-year-old four-piece combo plays an Americana that encompasses Texas honky-tonk, Bakersfield twang, Memphis rockabilly, Western swing and good old-fashioned rock'n' roll
Ruby Dee's is a tale of unbelievable resilience and drive in the face of struggles that would foil someone with less determination. Her latest album, LITTLE BLACK HEART, is a tour de force of exemplary musicianship. Ruby wrote every song on it, with the exception of a Jack Scott chestnut that was a favorite of the band. This is amazing in itself, considering the aftermath of a terrible accident that left her with significant brain damage. Eight years ago, she was involved in a scooter accident that left her with a traumatic brain injury and other trauma: vertigo, memory loss, nausea, mental confusion and language challenges. 
"

"I could picture an image in my mind, but couldn't think of the word. I couldn't finish thoughts or sentences or conversations, let alone write songs"" - Ruby Dee
LITTLE BLACK HEART would be a fantastic album regardless, but with tight, catchy lyrics, it's a testament to Ruby's return to the level of musicianship she had to struggle to regain. Her smoky, expressive alto and the dynamic band lifts swing, rock'n'roll, R&B and rockabilly songs that cover everything from her accident, to social commentary on certain music scenes, to love gone wrong. The title track "Little Black Heart" is a classic old-fashioned minor-key murder ballad with steel guitar providing the spooky atmosphere. 
After nearly constant touring for the past 20 years, including thousands of dates across America, Europe and Australia, songs from the band's second album, MILES FROM HOME (Dionysus Records, June 2008; produced by Conrad Uno), are still earning steady airplay, including "Cold Pines and Red Dirt" which earned band front woman- lead vocalist and songwriter Ruby Dee- runner-up honors in Songwriter Magazine 2007 competition. The album charted in at #86 on the AMA Top 100 for more than four weeks and #26 on the Texas Third Coast Music FAR Top 40. The "Round and Round" video, released in May 2009, has earned great acclaim with its cameos of Seattle rockabilly musicians and famous musical neighborhoods.
"

"Blending snarling rockabilly with honky-tonk heartache, Ruby Dee and The Snakehandlers have crafted their best recorded set thus far. The heart of the 13-song set emanates from Dee's original material which combines poetic expressionism and hillbilly sass. Aided by Jorge Harada's top-flight guitar work which alternates ballroom tenderness with rowdy roadhouse rock, she sounds like a Texas dance hall chanteuse visiting us from another era"." - Ken Burke
— Blue Suede News
With a reputation for high-energy shows that precedes them, Ruby Dee and The Snakehandlers deliver to capacity crowds in clubs, festivals and events, starting in the Pacific Northwest, where right off the bat, they were voted Best Band in the Seattle Post-Intelligencer People's Picks 2005 & Best Signed Band in the People's Picks 2006. The band's first full-length CD, Uno-produced NORTH OF BAKERSFIELD, earned huge airplay in the United States, Europe and Australia, and charted repeatedly on the European Americana list.

 The music has gotten a hold on audiences near and far: a combination of Ruby's singing and songwriting, wrought from her childhood spent between the no-longer-wild foothills of Northern California and the long straight roads around Big Spring, Texas; her time escaping to South America, driving a truck, working Alaskan fishing boats and more … 
And Gretsch-endorsed guitarist Jorge Harada has poured heart and sweat all over his Tennessee Rose guitar in such bands as The Spitfires and rockabilly giants DRAGSTRIP 77. 
Providing the rock-solid honky-tonk groove backing Ruby and Jorge are Rick Watson on doghouse bass and Michael Bahan on cathouse drums. Together, they have played fourteen successful European tours and a few rockin' Australian tours, as well as a variety of dates across the United States. 
The band's release LIVE FROM AUSTIN TEXAS came out mid May 2011 on both CD and vinyl, showcasing a few new songs and fans old favorites cranked up with that live jumpin' sound for which the Snakehandlers are so well known. Songs from the CD charted for three months on both the AMA and Texas Third Coast Music charts, and the CD earned the band a 54th Grammy consideration for Best Americana Album. 
Their release ROCKABILLY PLAYGROUND came out May 2013 on both CD and vinyl, and is a roots and rockabilly album for the whole family. With all mature instrumentation (no kazoos or funny voices) and lyrics for the kids: songs about homework, naptime, why we have to follow all the rules, super best friends, and more. Ruby wrote the record when she saw how many of their fans have children and when they can bring them to shows, how many of those kids LOVE this style of music! So rather than sing achy breaky 'he's gonna get it' type songs to them, she wrote new ones with the kiddos in mind. Songs from the album charted on both AMA and FAR charts, and earned the band a 56th Grammy consideration for Best Children's Album.
"

"Risky – and perhaps just a bit risqué – Ruby Dee and The Snakehandlers conjure forth all sorts of visions of another time. Rooted firmly in the classic country and rockabilly tradition, the band is an authentic backdrop for lead singer Ruby Dee's blend of Wanda Jackson sass and Patsy Cline pathos. The band holds it down with the insistence of a chugging train while Dee, a pinup heartbreaker of yesteryear with thoroughly modern attitude, commands the stage"."
— Metro Santa Cruz